IT leader's guide to VS code for mainframe development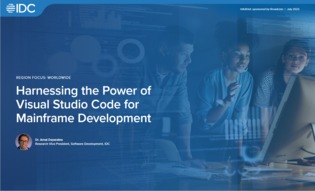 Looking to get started harnessing the power of Visual Studio code for mainframe development?
This e-book dives into the benefits of using VS code platforms, taking a close look at functionality benefits, the essential strategies for overcoming challenges in the mainframe development, and success stories from industry leaders.
Download this IDC e-book today to learn how VS code can help your organization accelerate agile development, bring modern functionality to the mainframe, and democratize access to mainframe development.