AWS migration success story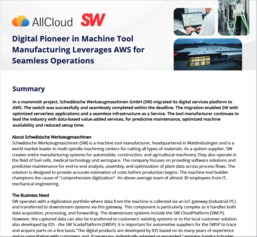 Machine tool manufacturer Schwäbische Werkzeugmaschinen GmbH (SW) completed a mammoth migration project to AWS, enabling them to utilize optimized serverless apps and a seamless infrastructure as a service.
SW's Product Owner of Industrial Data Services had this to say about AllCloud's skill as a migration partner:
"The performance of AllCloud was top despite the high pressure. During the critical phase, the collaboration with them was very intense through dailies, spontaneous meetings and workshops. The project managers and architects did a very good job and were always available for us, even late at night."
Explore the details of the case study.