What to do when 58% of IT professionals won't attend live events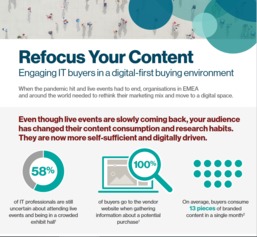 Even though live events are slowly coming back, your audience has changed their content consumption and research habits. They are now more self-sufficient and digitally driven.
In fact, 58% of IT professionals are still uncertain about attending live events and being in a crowded exhibit hall.
With changing audience behavior and increasing competition in a digital space, you need to act fast and re-think your content marketing strategy.
Take a look at this TechTarget infographic for the essential tips and tricks for developing engaging content in a digital-first era.