This resource is no longer available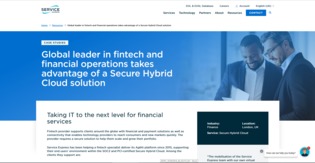 In the marketplace, there are limited options to take IT infrastructure into the cloud if you deal with banking and wealth management transactions.
Fortunately, Service Express has been helping leading fintech specialists deliver Agiliti platforms since 2015, supporting their end users' environment within the SOC2 and PCI-certified Secure Hybrid Cloud.
Discover in this case study how Service Express's Secure Hybrid Cloud allows Fintech customers to expand financial and payment solutions to their end users, and take financial IT to the next level.
This resource is no longer available.