This resource is no longer available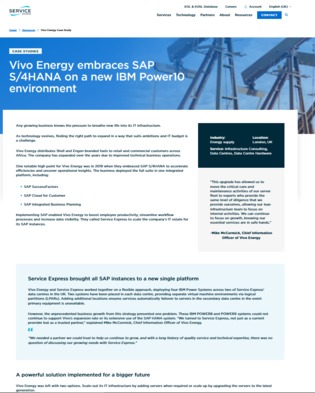 Any growing business knows the pressure to breathe new life into IT infrastructure.
Vivo Energy, responsible for distributing Shell and Engen branded fuels to customers across Africa, is no stranger to this endeavor. In 2019, they embraced SAP S/4HANA to accelerate efficiencies and uncover operational insights, but IBM POWER8 and POWER9 systems struggled to support Vivo's expansion rate or its extensive use of the SAP HANA system.
To solve this dilemma, Vivo turned to Service Express.
Discover in this case study how the hardware muscle provided by IBM's Power10 generation helped Service Express empower Vivo Energy to boost employee productivity, streamline workflow processes and increase data visibility.
This resource is no longer available.