How Citrix Leverages Intent & Multi-Layered Engagement to Innovate in Its ABM Programs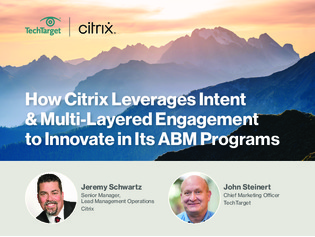 In this e-book, global digital workspace leader Citrix shares how it is winning with strategies that identify, influence and deliver opportunities from existing and net-new ABM accounts.
Using a hybrid approach featuring digital advertising, demand generation, advanced account targeting and more fueled by real purchase intent, Citrix integrates and executes programs to benefit their bottom line.
Understand how Citrix is driving innovation within their stack to ensure their sales and marketing teams are well equipped with the right data and tools to engage and convert the accounts that matter most.