Your Cheat Sheet for Creating a Natural Disaster Recovery Plan
Your Cheat Sheet for Creating a Natural Disaster Recovery Plan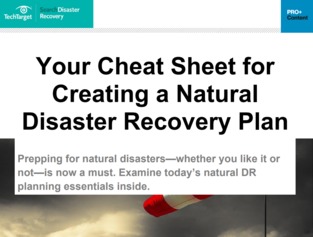 While the debate on climate change continues, prepping for natural disasters - whether you like it or not - is now a must.
So how do you prep for these scenarios, or even determine which scenarios to prep for?
Examine today's natural disaster recovery planning essentials inside this e-guide, which aggregates all the natural DR prep must-haves in one place:
Top 10 tips for your natural DR plan checklist
Natural DR planning FAQs
What to do if an internal notification system fails
And more!