Your ultimate guide to SD-WAN
SD-WAN Explained: The Ultimate Guide to SD-WAN Architecture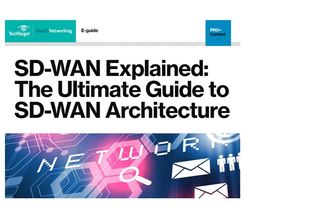 Software-defined wide area networks (SD-WAN) are an attractive way to improve the performance, manageability and flexibility of your enterprise network, but they're not simple and they're not all the same. Decoding the differences to determine whether and which ones are right for you can be a challenge.
Take our short survey on your WAN purchase plans and you'll get this free, 25-page guide that tells you all you'll need to know. You'll get insights into how SD-WAN makes interconnecting branch offices easier and more affordable. You'll learn about the choices you have in deploying them. And you'll come away knowing where the major vendors' offerings fit in the overall landscape.
Download Your Resource Now!