Microsoft Teams vs. Google Hangouts vs. Cisco Spark: Which is right for you?
Google vs. Slack vs. Cisco: Which cloud collaboration tool is for you?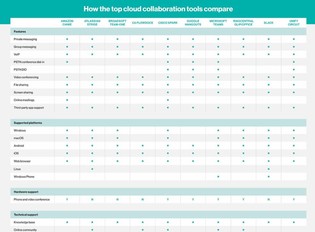 For companies like yours, cloud collaboration has become key for profitability, growth and cost reduction.

Rather than chasing down details, sifting through dozens of emails, and consolidating pockets of information, cloud collaboration centralizes all important information in 1 location where anyone can view it and make changes at any time.

Learn about 10 current market offerings and their features, supported platforms, hardware support and technical support in our cloud collaboration tool comparison chart. Get your copy after completing a 6-8 minute multiple choice survey.
Download Your Resource Now!