Finding the best cloud collaboration tool for your company
Which cloud collaboration tool is best for you?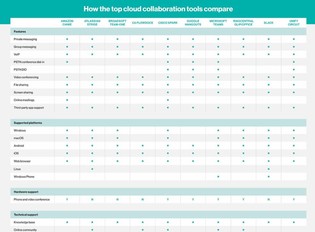 By 2021, 90% of IT leaders will not purchase new premises-based UC infrastructure —up from 50% today —because future cloud UC offerings will be far ahead in terms of features, functions, portals, analytics and dashboards, according to Gartner.

Where about your company? Let us know by taking a brief multiple-choice survey, where we ask you questions about:
Upcoming UC investments
Preferred deployment methods
Vendors you currently use
And more
Upon completion, you'll receive a copy of our printable cloud collaboration tool comparison chart which looks at 10 leading providers and their features.
Download Your Resource Now!