Experts' take on the future of APIs
Your Guide on Designing and Managing APIs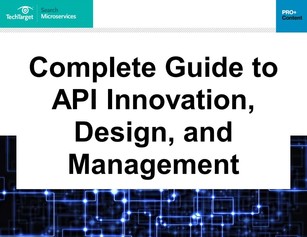 Most everyone is looking for strategies for faster and cheaper connections between cloud and on-premises applications. The industry experts at SearchMicroservices.com say for you and your competitors, API integration will likely play a key part in those evolving strategies.

The Complete Guide to API Innovation, Design, and Management can help you determine your best API next steps.

Click inside to find out:

•    Does it make more sense for you to build and design your own APIs?
•    Should you use a cloud-based integration Platform as a Service (iPaaS)?
•    What are the management needs of APIs?
•    And much more

All you need to do to access this 30-page API guide is complete a short multiple-choice survey on your organization's integration efforts. Then it's yours to keep and distribute among your team!
Download Your Resource Now!