How to automate IT troubleshooting
The definitive IT troubleshooting guide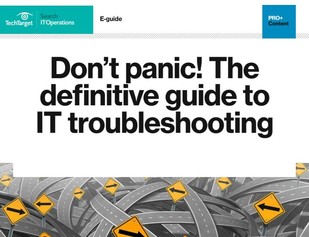 No IT environment is perfect, and help desks everywhere are overrun with issues of all sizes that are difficult to record, troubleshoot, and remediate in a timely manner.

An automated IT incident management system may be the key to your problem.

By answering just a few survey questions here, you can gain access to a brand new guide from SearchITOperations.com, Don't panic! The definitive guide to IT troubleshooting.

This guide will give you step by step instructions on how to determine the effect an automated IT incident management system could make at your organization. No vendor bias, just the straight facts on which system could be the best choice for you.

Open your guide here.
Download Your Resource Now!