How 10 cloud collaboration tools compare
Printable Chart: Guide to Workplace Collaboration Tools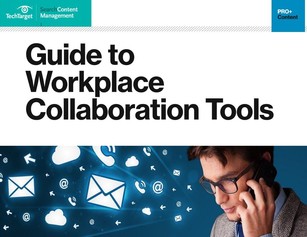 As the amount of digitized data increases at an exponential rate, companies are realizing the importance of workplace collaboration tools for information sharing.

So, what features do you need in a collaboration tool? This is a question you need to answer because the list of tools to choose from is lengthy, and each one is different.

Our Guide to Workplace Collaboration Tools is here to show you how 10 top tools compare. Uncover how tools such as Slack, Microsoft Teams and Amazon Chime stack up on aspects such as:
Features including private messaging, video conferencing and file sharing
Supported platforms
Hardware and technical support
And more
Participate in our content services research program today to access your guide, which includes a printable vendor comparison.
Download Your Resource Now!