All Research Sponsored By:

LatentView Analytics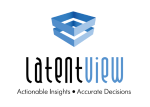 LatentView Analytics Video
VIDEO: Planning and managing inventory to meet demand and generate sales is challenging, especially with a limited view of your supply chain. Watch this video to learn how a food and beverage company leveraged ConnectedView supply chain solutions to address revenue loss due to a decrease in OSA and boost efficiency by enhancing supply chain visibility.
Posted: 21 Mar 2023 | Premiered: 21 Mar 2023


---
Data Analytics For Fortune 500 Companies: Top Use Cases
EBOOK: How can you derive competitive advantage and create new value for your organization by improving your data strategy? Read this e-book to learn key insights on building an enterprise-wide data strategy across multiple industries so that your organization can maximize its ability to transform data into tangible business value.
Posted: 02 Dec 2022 | Published: 02 Dec 2022


---
Eliminating Disconnected Supply Chains With A "Connectedview"
WHITE PAPER: On top of lost sales, CX and the health of long-term relationships between businesses and their customers are at a huge risk for most organizations due to disconnected supply chains. Read on to learn how you can leverage AI to improve customer service by empowering supply chain personas with better and faster decision-making capabilities.
Posted: 01 Dec 2022 | Published: 01 Dec 2022