Analyst insights: The state of SASE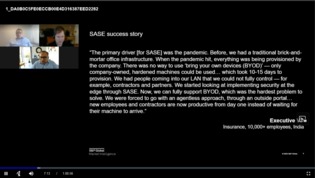 Secure Access Service Edge (SASE) is one of the foremost security projects undertaken by organizations today for many reasons including enabling remote work, reducing costs and risks, and improving regulatory compliance.
S&P Global Market Intelligence was commissioned by Verizon to complete a study on recent SASE projects. The research gathered data on key decision-making criteria, deployment and implementation strategies, business value, and lessons learned.
Join Mark Ehr and Verizon with a panel of EMEA-based SASE practitioners to discuss key study findings, insights, and learnings from the field and best practice guidance on how to overcome any obstacles you may face.