Why there are some cords you just can't cut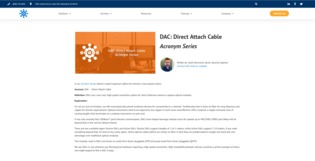 For IT professionals in the market for a low-cost, high-speed connection option for short distances, but don't want to pay extra for optical modules, you have much better options today.
In this article, you will learn about Direct Attach Cables (DAC) that are optimized to handle the 10GBase-T ports that have become more commonplace today.
Read on to learn more about the power of utilizing DACs and see how your organization can power your high-performance devices without breaking your budget on expensive cabling and components.