Accelerating Digital Transformation Outcomes Through Full-Stack Observability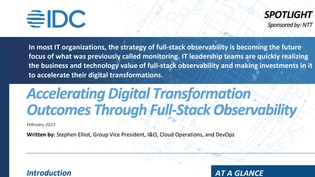 In most IT organizations, the strategy of full-stack observability is becoming the future focus of what was previously called monitoring.
Generally, the more IT teams are provided unified visibility into an end-to-end digital system, the better digital services will perform and serve the business. IDC predicts that by 2027, automation enabled by artificial intelligence (AI) will reduce the need for human operations intervention by 70%, accelerating the ability for IT teams to identify the causes of issues in a complex production system.
Discover more trends and benefits of full-stack observability in the full IDC analyst report today.