3 best practices for controlling cloud costs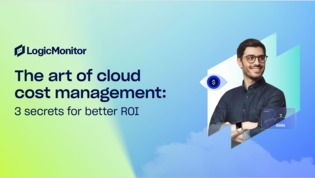 Picture your ideal cloud state. Teams easily migrate workloads and applications, and the cloud provider handles operations seamlessly.
But that's not reality.
Cloud migration is rarely straightforward, and it isn't one-size-fits-all. Not all workloads are suited for migration, and when you do identify what should be migrated, you can't always determine the challenges (or charges) ahead of time.
In this white paper, find out why it's hard to see the true cloud costs as you scale, and how LogicMonitor can help visualize on-premises and cloud monitoring.