ML Model Outperforms Standard Methods for Detecting Heart Attacks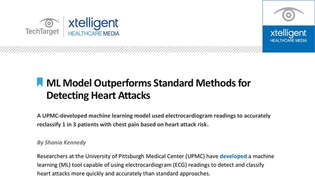 Researchers at the University of Pittsburgh Medical Center (UPMC) have developed a machine learning (ML) tool capable of using electrocardiogram (ECG) readings to detect and classify heart attacks more quickly and accurately than standard approaches. The model was able to accurately reclassify 1 in 3 patients with chest pain based on heart attack risk.
Download the article to read more.