Trust Emerges as Cybersecurity Issue for 42% of Security Decision-Makers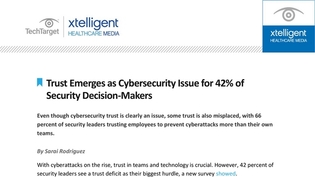 With cyberattacks on the rise, trust in teams and technology is crucial. However, 42 percent of security leaders see a trust deficit as their biggest hurdle, a new survey showed. The 2023 'State of Cyber Defense Report: The False-Positive of Trust', which polled 1,000 top IT security decision-makers, suggests that lack of trust tops the list of cyber defense challenges.
Even though cybersecurity trust is clearly an issue, some trust is also misplaced, with 66 percent of security leaders trusting employees to prevent cyberattacks more than their own teams.
Download the article to read more.