Back to the Basics, Other Payment Integrity Strategies Post-PHE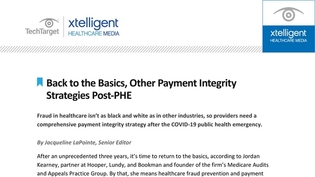 Fraud in healthcare isn't as black and white as in other industries, so providers need a comprehensive payment integrity strategy after the COVID-19 public health emergency.
The back-to-the-basics approach is fitting after the expiration of the PHE, especially considering hospitals and physicians have both seemed to develop workflows and manage capacity better than they did early on during the pandemic. 
Download the article to continue reading.