Personalized Computational Approach Identifies Four Alzheimer's Subtypes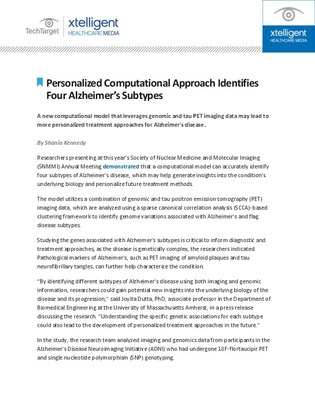 Researchers presenting at this year's Society of Nuclear Medicine and Molecular Imaging (SNMMI) Annual Meeting demonstrated that a computational model can accurately identify four subtypes of Alzheimer's disease, which may help generate insights into the condition's underlying biology and personalize future treatment methods.
The model utilizes a combination of genomic and tau PET imaging data, which are analyzed using a sparse canonical correlation analysis (SCCA)-based clustering framework to identify genome variations associated with Alzheimer's and flag disease subtypes.
Download the article to continue reading.