Supply Chain Orchestrator for manufacturers: Top 4 benefits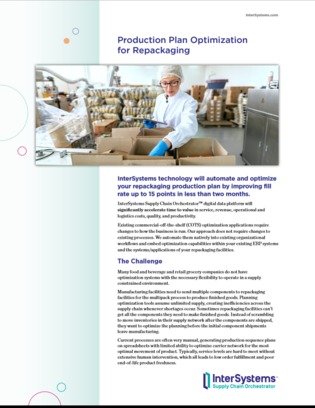 Many food, beverage, and retail grocery companies do not have optimization systems with the necessary flexibility to operate in a supply constrained environment.
For instance, manufacturing facilities need to send multiple components to repackaging facilities, but planning optimization tools assume unlimited supply, creating inefficiencies across the supply chain whenever shortages occur.
This is where InterSystems' Supply Chain Orchestrator comes in, automating and optimizing your repackaging production plan based on true forecast and supply to maximize fill rate.
Discover the top 4 benefits of Supply Chain Orchestrator in this datasheet and how to apply them in your company.