The evolution of chatbots from ELIZA to Bard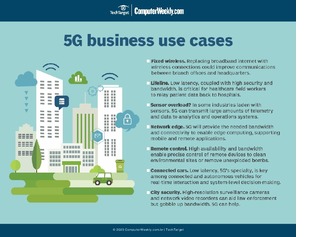 5G, the latest generation of cellular technology, delivers faster speeds, lower latency and greater capacity for multiple devices than its 4G predecessor. Although carriers are devoting the lion's share of their 5G marketing dollars to wooing consumers, enterprises will reap the biggest rewards.
In the coming years, enterprise use cases will outweigh consumer use cases, making it essential for organizations to thoroughly understand 5G's benefits and challenges now and to begin evaluating how the technology could affect the way they do business.
Here are seven 5G emerging use cases for enterprises.