Protect Your Apps and APIs Across a Distributed Cloud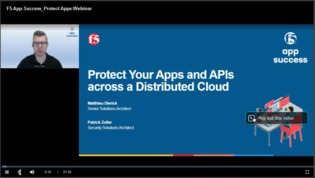 Whether your apps are for an on-prem system, the public cloud, or the edge, the principles of SaaS fit nicely into a distributed cloud environment. Achieving improved collaboration, automation, security, and full-stack observability are just some of the benefits.
In this webinar, you will see how to secure both modern apps and their infrastructure through improved threat detection, compliance, and an enhanced security posture. You will also see how a labor intensive, legacy application security solution may be holding you back.
Watch this webinar to see the benefits of a platform that protects your apps and APIs no matter where they are in your ecosystem.