Will data centers become obsolete?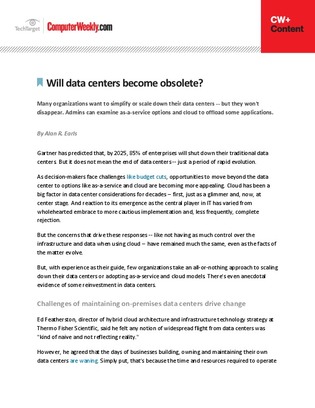 Gartner has predicted that, by 2025, 85% of enterprises will shut down their traditional data centers. But it does not mean the end of data centers -- just a period of rapid evolution.
As decision-makers face challenges like budget cuts, opportunities to move beyond the data center to options like as-a-service and cloud are becoming more appealing. Cloud has been a big factor in data center considerations for decades -- first, just as a glimmer and, now, at center stage. And reaction to its emergence as the central player in IT has varied from wholehearted embrace to more cautious implementation and, less frequently, complete rejection.
Download Your eGuide Now!