8 green computing best practices for a more sustainable data center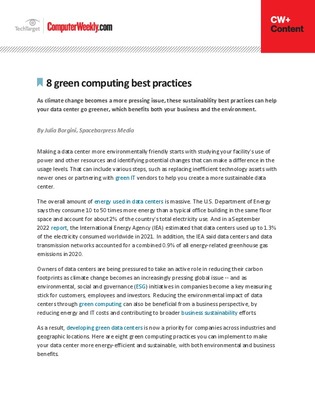 Making a data center more environmentally friendly starts with studying your facility's use of power and other resources and identifying potential changes that can make a difference in the usage levels. That can include various steps, such as replacing inefficient technology assets with newer ones or partnering with green IT vendors to help you create a more sustainable data center.
The overall amount of energy used in data centers is massive: the International Energy Agency (IEA) estimated that data centers used up to 1.3% of the electricity consumed worldwide in 2021.
Here are eight green computing practices you can implement to make your data center more energy-efficient and sustainable, with both environmental and business benefits.