Evolved email security & NGFW help prevent ransomware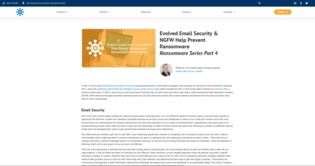 Ransomware continues to present the greatest danger facing security teams. One of the most dangerous aspects of ransomware is how it can seemingly come from anywhere, with even the simplest of breaches being potential avenues for devastating attacks.
This article looks at the dangers of ransomware, and how security teams can prevent ransomware by bolstering and upgrading other security systems, including:
Email security
Secure email gateways and integrated cloud email security
Next-generation firewall (NGFW)
Read the full blog article now to learn more ways you can combat ransomware.