Preventing ransomware with DNS security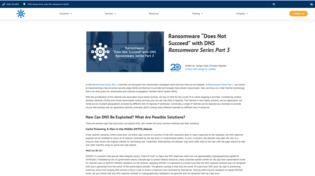 Cybersecurity bad actors have found ways to exploit networks that use DNS for initial application connection, targeting the inherent weaknesses in DNS.
In this blog, Nexum discusses how Introducing DNS security controls can prevent ransomware from gaining a foothold, advocating for their offering which uses encryption to monitor and authenticate any traffic going in or out of your DNS.
Read on to learn more about Nexum's approach to preventing ransomware.