Finding the right POTS replacement strategy for your organization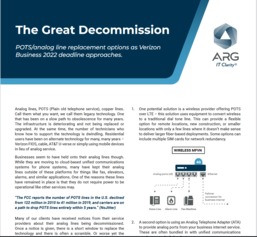 Analog lines, POTS (Plain old telephone service), copper lines. Call them what you want, most end up calling them legacy technology.
It's no surprise then that businesses have received notices from their service providers about their analog lines being decommissioned. Once notice is given, there is a short window to replace the technology and there is often a scramble.
So how can you get ahead of this?
Check out this data sheet to learn about 3 POTS/analog line replacement options as the Verizon Business 2022 deadline approaches.
Vendor:

ARG, Inc.

Posted:

Dec 22, 2022

Published:

Dec 23, 2022

Format:

HTML

Type:

Data Sheet