7 risk mitigation strategies to protect business operations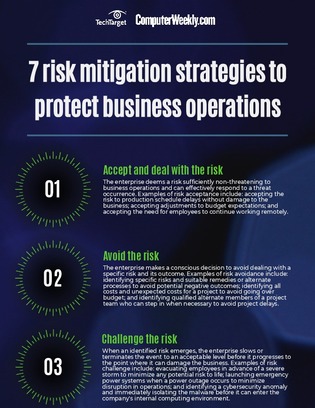 Without risks to manage and threats to mitigate, life in business would be a lot easier. Internal risks, external risks and threats can disrupt or destroy the four critical elements that most enterprises need to operate: people, processes, technology and facilities. Each of the four elements can have vulnerabilities.
As part of an enterprise risk management program, risk mitigation strategies must not only identify risks and threats, such as organizational risks, but also stress the importance of identifying vulnerabilities that could open the door to risk events. In this infographic, we put together the seven most widely used risk mitigation strategies to help business keep their data safe.