2022 UKI Media Consumption Study: Transform your face-to-face event thinking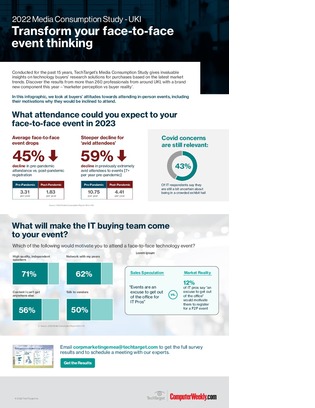 Conducted for the past 15 years, TechTarget's Media Consumption Study gives invaluable insights on technology buyers' research solutions for purchases based on the latest market trends. Discover the results from more than 260 professionals from around UKI, with a brand new component this year – 'marketer perception vs buyer reality'.
In this infographic, we look at buyers' attitudes towards attending in-person events, including their motivations why they would be inclined to attend. Download our exclusive PDF and learn more about:
What attendance could you expect to your face-to-face event in 2023
What will make the IT buying team come to your event?