Video conferencing security best practices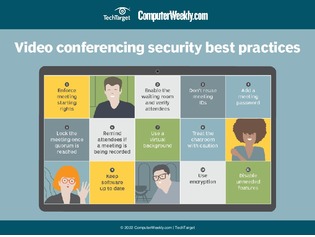 A crucial lifeline for many hybrid and fully remote employees is the ever-faithful video conferencing tool. It plays a vital role in keeping employees connected and productive. However, as can be expected, anything being used consistently by many workers will also become an attack target of miscreants. 
Aside from external threats, there are basic hygiene and video conferencing security best practices that will help keep this critical communication tool safe and more private for employees and their employers.
Here are 11 tips to help enterprises adapt to a video conferencing-enabled workforce and set them up for the long haul to host remote meetings in a secure and private manner.