This resource is no longer available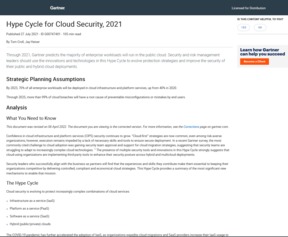 According to Gartner, by 2023, 70% of all enterprise workloads will be deployed in cloud infrastructure and platform services.
Cloud security is constantly evolving, with more tools designed to protect specific cloud usages, including:
Infrastructure as a service (IaaS)
Platform as a service (PaaS)
Software as a service (SaaS)
Hybrid (public/private) clouds
In this report Gartner looks at the state of cybersecurity, leveraging relevant data to map out how different providers are performing.
Download the full report to learn more.
This resource is no longer available.