This resource is no longer available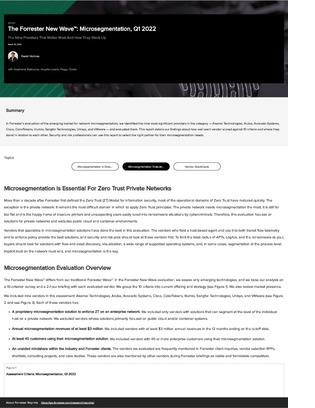 As the popularity of Zero-Trust models for information security have grown, so have the adoption of private networks.
However, private networks need microsegmentation the most, as they tend to be too flat and made up of unsuspecting users that can be easily lured into ransomware situations by cybercriminals.
To meet their needs, buyers should look for solutions with flow and asset discovery, visualization, a wide range of supported operating systems, and segmentation at the process level.
Access this Forrest Report to discover how well 9 of the most significant vendors stack up when scored against 10 criteria, and learn how you can choose the right partner for your microsegmentation needs.
This resource is no longer available.