Why Wi-Fi alone won't cut it: Your look inside private cellular networks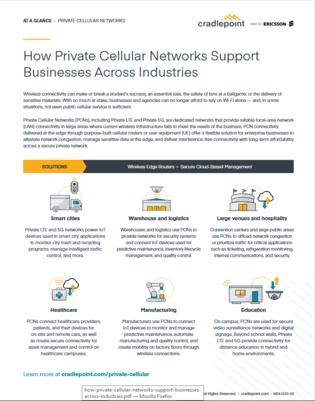 Wireless connectivity can make or break a student's success, an essential sale, the safety of fans at a ballgame, or the delivery of sensitive materials. With so much at stake, businesses and agencies can no longer afford to rely on Wi-Fi alone — and, in some situations, not even public cellular service is sufficient.
Private Cellular Networks (PCNs), including Private LTE and Private 5G, are dedicated networks that provide local-area network (LAN) connectivity in large areas where current wireless infrastructure fails to meet the needs of the business. Tap into this white paper to learn how private cellular networks support businesses across industries.