Overcoming IT turmoil from mergers & acquisitions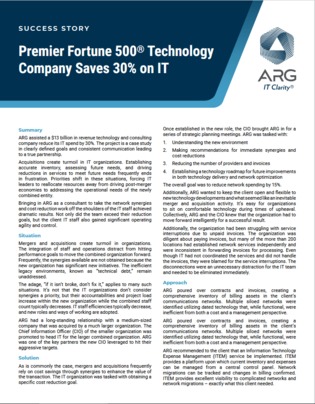 Mergers and acquisitions create turmoil in organization's IT. To help a Fortune 500 company smooth their transition after acquiring a new organization, they turned to ARG.
ARG was tasked with:
Understanding the new environment
Making recommendations for immediate synergies & cost reductions
Reducing the number of providers & invoices
Establishing a roadmap for future improvements in both tech delivery and network optimization
Access the case study here to learn how they more than doubled their initial goal to reduce network spending by 15%.
Vendor:

ARG, Inc.

Posted:

Jul 27, 2022

Published:

Jul 27, 2022

Format:

HTML

Type:

Case Study