5 reasons to convert to a multicloud on-ramp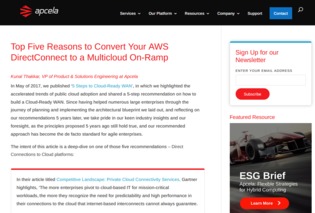 In today's dispersed workforce, more applications and workloads are migrated to cloud, and more cloud regions are added for distributed application delivery platform and high availability.
How can you guarantee consistent, reliable performance?
This blog post outlines why you should convert the access circuits that enable AWS DirectConnect into a multicloud link instead of a single purpose connection and leveraging existing SD-WAN.
Read on to uncover 5 reasons you should convert your AWS DirectConnect to a multicloud on-ramp, including:
Cost efficiency
Greater visibility and control
And more