DataOps in 2022: Key findings & market analysis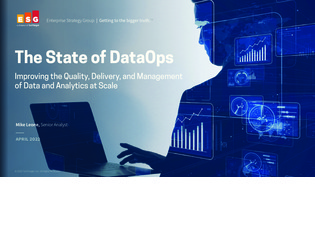 For several reasons, the complexity of today's data ecosystem hinders the democratization of data and analytics. This e-book by ESG provides extensive insights on how to improve the quality, delivery and management of data and analytics at scale.
To gather those insights, ESG surveyed 403 technical and business data professionals at organizations in North America involved in data and analytics strategy with knowledge of modern tooling, technology and processes.
This research assesses the state of DataOps, including market maturity, experienced challenges, factors influencing buying/planning decisions and more.
Read on to learn key findings and use the report to compare your performance to your peers.