5G vs. Wi-Fi 6: What's the difference?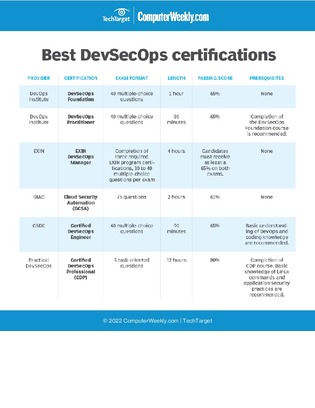 Agile software development and DevOps practices help developers reduce development time frames, improve collaboration and innovation, and ensure scalability and reliability. One thing that hasn't always been addressed -- but is gaining increased attention -- is security in the software development lifecycle.
DevSecOps is the practice of shifting security left to involve security throughout the entire SDLC rather than right before -- or after -- deployment.
Due to its increasing importance, a number of DevSecOps certifications and trainings are available today. They are applicable to DevSecOps-specific jobs, such as DevSecOps engineers, managers, specialists and consultants, as well as software developers and engineers, security professionals, IT managers, auditors and other IT professionals.