The Great Decommission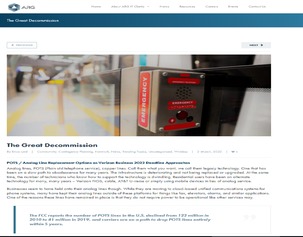 Analog lines or plain old telephone service (POTS) are steadily being decommissioned, with the FCC reporting that carriers are on a path to drop POTS lines entirely within 5 years.
To avoid getting disconnected, you can implement new technologies like a wireless provider offering POTS over LTE, using an Analog Telephone Adapter (ATA), or a Managed Facilities-based Voice Network (MFVN) solution.
Access this article to help find the right POTS replacement strategy for your organization.
Vendor:

ARG, Inc.

Posted:

May 26, 2022

Published:

May 27, 2022

Format:

HTML

Type:

Blog