APAC career guide: Becoming a cyber security pro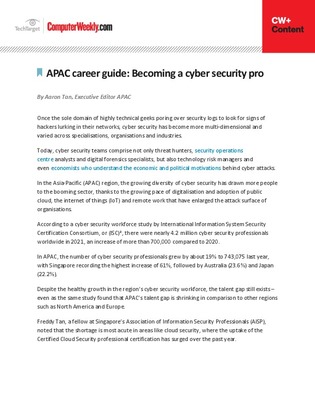 Once the sole domain of highly technical geeks poring over security logs to look for signs of hackers lurking in their networks, cyber security has become more multi-dimensional and varied across specialisations, organisations and industries.
In the Asia-Pacific (APAC) region, the growing diversity of cyber security has drawn more people to the booming sector, thanks to the growing pace of digitalisation and adoption of public cloud, the internet of things (IoT) and remote work that have enlarged the attack surface of organisations. But it takes more than just technical know-how to succeed in the field.
In this e-guide, learn what it takes to become a successful cyber security pro in APAC.