Create connections with buyers through episodic content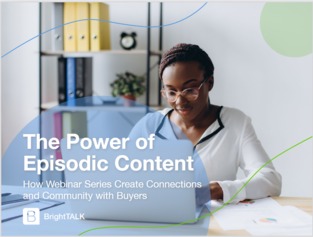 It's clear that consumers today crave video - and lots of it. But you may be wondering, how does that translate to the B2B buyer landscape?
Video-based channels like webinars can drive deep engagement with buyers and customers, but it's still challenging to cultivate community at scale while also cutting through a fiercely competitive and cluttered digital environment.
This e-book will break down how episodic content can ignite any demand generation or ABM strategy for long-term results.
Access your copy to learn:
Why episodic content is so powerful
The 4 steps for launching a webinar series
How to overcome common barriers to producing
webinar series