Cyber threat on the rise: Why enterprises need to be on red alert with text and mobile phishing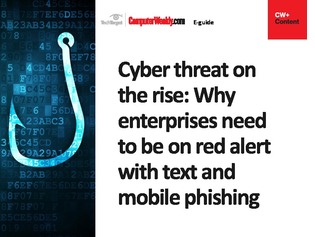 Last year's Verizon data breaches report found that 80% of all cyber security attacks started with a phishing email. During the Covid-19 pandemic, cyber criminals have taken full advantage of the crisis with offers of fake payments, discounted tests, and vaccinations. At the coronavirus's peak in 2020, Kaspersky identified more than 5,000 pandemic-related phishing websites.
The rise of mobile activities also made things easier for advanced phishing techniques, as the always-on lifestyle means users will remain online even when they're distracted or on the move.

In this e-guide, we take a look at how phishing can affect an enterprise, why text-based phishing is a growing threat and how to prevent and minimize mobile phishing attacks.