Infographic: SIEM vs. SOAR vs. XDR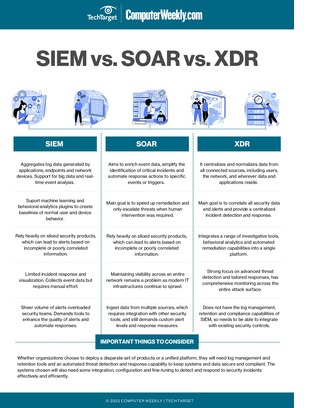 IT security teams face an ongoing challenge: how best to collect event data from every corner of their network and turn it into intelligence to prevent or stop cyber threats. To help security teams out, vendors have released successive generations of products that aggregate and analyze security events, each of them with a different collection of tools and features focused on shortening attack detection and response times.
Security teams today can choose among security information and event management (SIEM), security orchestration and response (SOAR), and extended detection and response (XDR) products. However, determining the differences among these options and which one best suits their enterprises can be quite a challenging task.
In this infographic, learn what are the main differences between SIEM, SOAR and XDR, and how these tools can help improve cyber security.