Kaspersky vs. Nutanix vs. Fujitsu: How leading channel vendors stack up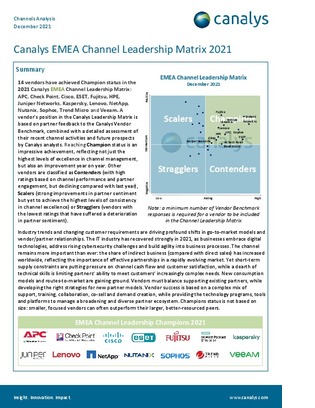 Kaspersky has achieved 'Champion' status, for the second consecutive year, in the 2021 Cybersecurity Leadership Matrix by Canalys.
As businesses continue to embrace digital technologies with growing enthusiasm, the channel market remains more important than ever with effective partnerships and indirect business meeting the needs of a rapidly evolving IT market.
The 2021 Cybersecurity Leadership Matrix by Canalys breaks out vendors into rankings including scalers, stragglers, and champions based on factors including support to existing partners and the development of strategies for new partner models.
Access this report to learn why Kaspersky, Nutanix and Lenovo earned the rank of Champion vendors in their market.