Security Think Tank Christmas Special - The most important lessons of 2021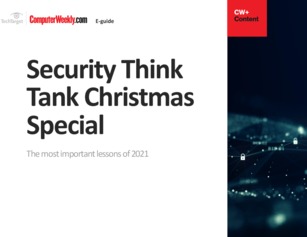 Nobody working in cyber security needs to be told that 2021 was a tumultuous year for the sector. From the fall-out from SolarWinds, to massive ransomware attacks on the likes of Colonial Pipeline and Kaseya, and most recently the Apache Log4j vulnerability, and all of them against the continuing backdrop of the Covid-19 pandemic, it's a wonder cyber pros have had any time to relax this year.
And with so much to reckon with, sifting through the wealth of information and advice to discern the most important cyber lessons of 2021 is also a challenge. What was truly important? What should you have been paying attention to? Luckily, the Computer Weekly Security Think Tank – our exclusive panel of experts drawn from across the sector – is here to save the day. 
- Think people, processes and systems
- There's much more to do to secure hybrid workers
- In the cloud, anti-human approaches set us up to fail
- Good documentation could save your bacon
- Attackers leveraging the supply chain
- We are failing to get the cyber message across to users