5 common SD-WAN challenges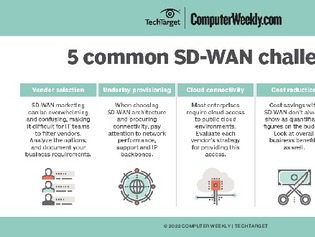 Software-defined WAN is a feature-rich technology with the ability to consolidate networking, security, reporting and management into one platform. But potential users should be aware of inherent SD-WAN challenges and deployment risk factors.
In this infographic, we point out five challenges IT teams are facing when evaluating SD-WAN technologies and vendors. Vendor selection, underlay provisioning, cloud connectivity, cost reduction and management are all challenges that must be considered along with specific requirements.