[Download] Using Alation to Accelerate Your Active Data Governance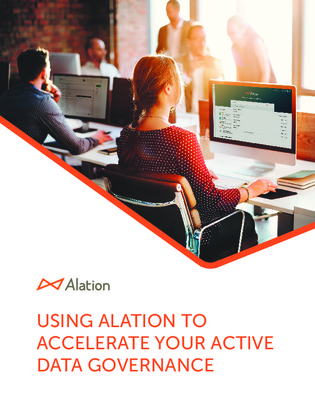 Alation's Active Data Governance is transformative for data governance professionals and data experts. Active governance increases the business value of data and takes the labor cost out of data governance while derisking a larger swath of data than traditional solutions.
The 4 Principles of Alation Active Data Governance
1. People Centric – The catalog first focuses on discovering the people that work with data most closely. It then enables them to govern data more efficiently. Alation supports natural data governance communities, where people can connect and recommend the best data sources and collaborate to enforce data controls. It enables people to do their jobs – rather than control their use of data.
2. Autonomous – Alation uses machine learning and AI to automate cataloging activities, including key governance tasks. Alation automates the process of finding, evaluating, and controlling data, and makes your data stewards easier to find. To find new stewards, the catalog tracks human activity and nominates candidates. And when new assets appear, the catalog will auto-assign the appropriate steward, based on that person's experience.
3. Continuous improvement – Data and metadata is not a "one and done". Data needs to be continuously improved. The aim is to make data better and better over time while requiring less and less labor.
4. End to End – Data governance should be an end-to-end process that includes performance measurement, so that with each successive cycle, performance is improved.
Download this PDF for more