Infographic: AI vs Predictive analytics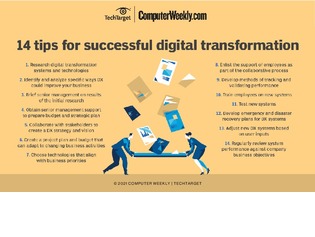 What constitutes digital transformation success? Is it a complete migration to the technologies supporting digital business? The implementation of advanced customer relationship management platforms? Or maybe increased revenue and market share?
For many enterprises, translating the benefits of digital transformation into everyday results is still a challenge, especially because improvement might encompass several different aspects of the business, from delivering a better customer experience, to increasing productivity or eliminating inefficiencies, and so on.
Realizing those business benefits will not happen overnight, and will depend on many different factors -- from the dedicated involvement of business leaders, to a solid understanding of how advanced technologies such as AI and machine learning can be used.
In this infographic, we provide a glimpse of what enterprises need to do to develop and execute a successful digital transformation strategy.