Infographic: Best practices for documentation in DevOps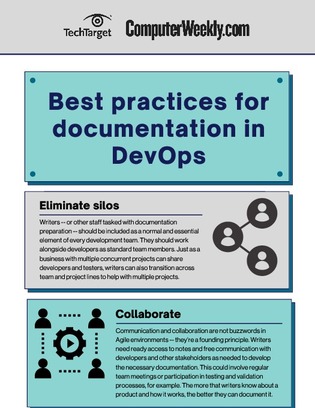 No software project is complete without documentation such as user guides, examples, references and change lists. Documentation shows users how to adopt, deploy and use any given software. But the pace of software development is increasing. Each new iteration brings changes, fixes and new features that demand careful documentation. As software development cycles accelerate, the need for accurate and complete documentation throughout the DevOps lifecycle is more important than ever.
However, the traditional long-tail approaches to technical documentation can't keep pace with technology. As more businesses embrace and expand the adoption of DevOps and other Agile development paradigms, businesses and development teams should revisit and update the ways IT departments prepare and maintain documentation.